Her Mother's Daughter: Heidi Dehnel: Powerlifter, Podcaster, Gym Owner, Coach, Wife, Mother, Daughter/ Written By Janna Moretti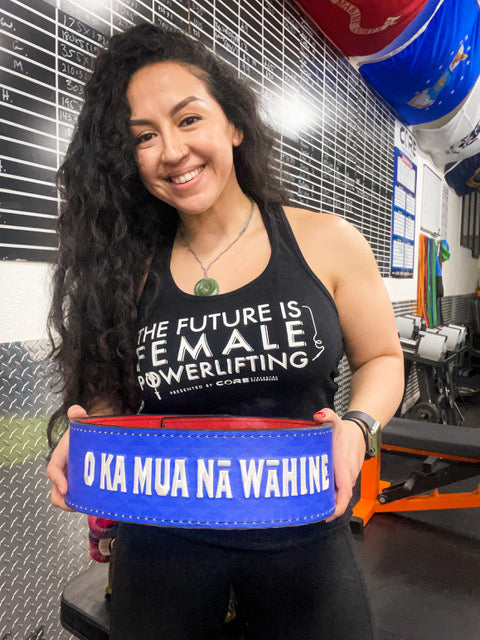 I was nervous about interviewing a well-known interviewer.  But with Heidi's authentic way of interacting, our discussion took off on its own, covering topics from awareness of mind in the body based in Buddhism's interpretations to strength sports to boundaries of self and other.  We talked about representation—how important it is to be the bridge between strength in what one sees and how one acts, the example for others to follow.  We talked about family as foundational support and how to cement boundaries.  Talking with Heidi, I was reminded of the strength I see in my own mother, and it is from this perspective that I captured a glimpse into Heidi's massive world.
Thank you for the trust, and thank you to Sisters of Iron for hosting these stories, these powerhouse women.
Her Mother's Daughter:  Heidi Dehnel:  Powerlifter, Podcaster, Gym Owner, Coach, Wife, Mother, Daughter
By:  Janna Moretti
               All women who powerlift add to the legacy of powerlifting.  Whether they test themselves alone or compete at meets, whether they lift privately or among others at a training facility, whether or not they show this side of themselves on social media, they test themselves through powerlifting, and in doing so, build themselves to some other height, negotiating their realities differently after having spent time under the bar.  Some women are doing what many others before them have not done—setting an example for others to follow.  These women set examples in different ways—competing at powerlifting meets, directing these meets, judging at these meets, running facilities where training and competitions take place, coaching.  It is rare that one woman does every single one of these things.  And because her reach does not start and stop at the barbell, few people have added to the legacy of women in powerlifting in such an expansive way as Heidi Dehnel through her podcast The Future Is Female Powerlifting. 
             Heidi did not know that her podcast would be so big.  Back in 2018, after being interviewed for a podcast Strength Outside the Box, she saw that podcasting could be a matter of casual discussion around a mic, an authentic exchange—something fun.  After seeing it done, she thought, I can do that.  She had been contemplating her own podcast for a year prior, having listened to other podcasts discussing the athletic side of powerlifting:  training, nutrition, enhancement, structure, competition, numbers, programming.  Being a powerlifter herself, she wanted to know other things about these athletes' lives.  For example, how was training impacted when athletes had to deal with death in the family?  What about separations, divorce, birth? How did sickness, relationships, jobs, and stress outside of training interact with training and competing?  How did parents manage competing?  What drove these people to powerlifting?  It was in the spirit of curiosity that The Future Is Female Powerlifting was created.  Since then it has grown to over 4000 subscribers. 
               Though starting a podcast was risky, Heidi had enthusiasm and curiosity on her side.  And grit—which she'd need because the podcast had a few hiccups in its infant stages.  Her first interview discussion was excellent, of course.  The content—exactly what she'd hoped for—motivational, inspirational, real … but the recording software did not capture the athlete's comments. 
              "I started crying, you know," Heid said, "and I thought 'What the fuck are you doing?  You're so stupid … You're not going to be able to do it.'" 
              Heidi felt discouraged listening to the voice inside her head—the one that deflates, the one that says you shouldn't have tried.  Her husband, one of her biggest supporters, said, "Why don't you just ask the athlete to do it again?" She was embarrassed and didn't want to have to ask again.  But she did, and it went fine.   
            "If it weren't for my husband telling me to try it again, I would have stopped right there," Heidi said.  "I had taken it (the technical issue) as a sign to stop, but now I realized it was a sign to keep going."
               Podcasting is just one of many of the things that Heidi Dehnel has said yes to despite the fear of failure, of not being good enough.  Her ability to take risks is directly related to having seen her mother navigate multiple challenging roles.  This skill is built into her conceptual framework for strength.  Her mother, a Fine Arts Commissioner who went to law school, completed a few master's degrees while juggling mothering and being an elementary school principal.  Through trial and error, her mother learned over time how to balance family and self; Heidi learned how to tackle these seemingly disparate roles herself through seeing how her mother managed, and through her own experiences. 
             "I try to make more meaningful touch points," she said, explaining how she sits and talks with her kids, how they laugh together.  She and her mother are close, as well—they even direct a massive Tahitian dance competition together.  When describing the event and other events in the future, Heidi turned to the wall next to her to check the date on the yearly planner pinned there, color-coded reminders scribbled in, markers clipped to the top.  On the wall behind her was a photo of Heidi next to her husband dressed in his military uniform.  Close to that was a photo of her mother and father.  Below that, a painting from one of Heidi's children, a large red heart. 
               So much of who Heidi is comes from family identity.  She identifies with the calmer temperament of her Asian father and the extroversion of her Puerto Rican mother—the way they balance each other out.  From this foundational understanding of family, Heidi became disenchanted with her earliest prospect of love. When quite young, she became pregnant and divorced soon afterwards.  During that time, her father was diagnosed with cancer.  While being there for her family, she was struggling to heal from her recent divorce.  There were challenges.  It took time for her to warm up to trusting again. She didn't give guys a second chance if they were showing signs of disconnection.  But her future husband was persistent. 
              "He has an assertive loyalty," she said. The way Heidi describes her relationship with her husband, I think of a fire needing air to grow or become stable.  They are both fire and air for each other, at times, tempering the other as warranted or aiding in the growth of the other and self.  Each brought their own child to their marriage, which years later, would be gifted with a third child. 
               Like many other women, Heidi found fitness after having her first child.  She had gotten into fitness as a means of feeling better, to feeling empowered.  Laughing, referring to her ex-husband she said, "I hate to say it but it's one of those moments like, 'You get even, you get looking better.'"  Like so many other women, Heidi experienced the sharing of self as the reshaping of self, wanting to get back what was lost along the way—or some other iteration of it.  She began with Zumba, then training at her apartment complex doing P90X.  Eventually, she worked up to powerlifting, competing in a push-pull competition in 2012.  Then she turned her focus to bodybuilding, losing all of the bodyfat she had gained before and after pregnancy.  She hired a coach. 
            In 2014 she placed second in competitive figure at Nationals, but she said, "It was only because there wasn't a lot of competition there that I actually placed.  I wouldn't have otherwise." 
            Looking at photos of Heidi during her bodybuilding time, I was floored to hear about how she perceived imperfections in her body.  She looked phenomenal, but she explained, "Bodybuilding can create body dysmorphia.  All I could see was the fat on my sides, the glute-ham tie not looking good."  Training was corrective, prescriptive to fix what needed fixed instead of lifting for strength.  "If one of my clients now only focused on the one red light she got at a meet instead of the two white lights, that wouldn't be healthy." 
              After bodybuilding, her physique started to change—partially because she had been so restrictive about food and she was rebounding—and around that time she and her husband wanted another child … plus she missed barbell work … and around that time she had seen Susan Salazar, a bodybuilder, move between bodybuilding and powerlifting.  Seeing it done presented it as a possibility for herself, so Heidi migrated from bodybuilding to powerlifting.  She said, "I competed six months post-partum."  Wild. 
            About that shift in her life, she said, "I valued bodybuilding, but I had the realization that I didn't want that in my life.  It was rooted in anger, wanting to prove something.  Once you have love, that goes away." 
             She focused on mothering and training, and then personal training, putting her degree in Kinesiology to use.  Once again, Heidi said yes to risk and opened a gym with her husband.  At first, they marketed their gym towards clients who sought fat loss.  That was the governing demand in the fitness industry at the time.  But a lot of members saw Heidi powerlifting at their gym and asked her how to do that type of barbell work. 
              "It was no longer about me chasing that 25-year-old body," she said.  "It was about having a body that could perform."
            The members of their gym saw her being strong and they wanted it for themselves.  They asked for coaching, programming, nutrition guidance for strength training.  Fat-loss moved to the backburner, the side effect of pursuing strength.  What began initially as a gym that catered to the fat-loss clients morphed over time to a strength gym. 
           "People just started coming to us because I powerlift."  Heidi became the example for others in pursuit of strength.
               Heidi's gains in physical strength manifested into mental and emotional strength.  She grew in confidence from repetitively saying yes to opportunities.  She trained, she coached, she started to host meets, then began hosting her podcast.  Heidi wanted her podcast to be in the service of other people but on her own terms.  Her gym sponsors her podcast. She talks to the people who she wants to learn more about.  She reaches out to athletes who have something to offer through their stories.  These stories reach other lifters and inspire them.
             "I learned that if I didn't put myself out there," Heidi said, "I wouldn't be able to do any of these things.  Putting yourself out there leads to success." 
               Seeing her mother live the no risk-no reward method created a blueprint for this type of presence in the world.  Channeling some of her mother's coolness in stressful situations, Heidi puts herself out there while balancing being the example for other women and maintaining boundaries so she herself is present for her family—who circles back as her major support system for these ventures.  Managing all of these roles is challenging, but affirming the boundaries around the most important priorities in her life—her family—is how she manages to continue showing up again and again for herself and in doing so, showing up for other women in their ascension to higher selves through strength.
               "The biggest thing that I always try to encourage for women is to put yourself out there because a lot of the opportunities that I have is because I decided to take a risk."
               You can find Heidi on Instagram @futureisfemalepowerlifting.  Check out her gym in Huntsville, Alabama, Core Strength and Performance. 
---
---