GGB's 2 year anniversary!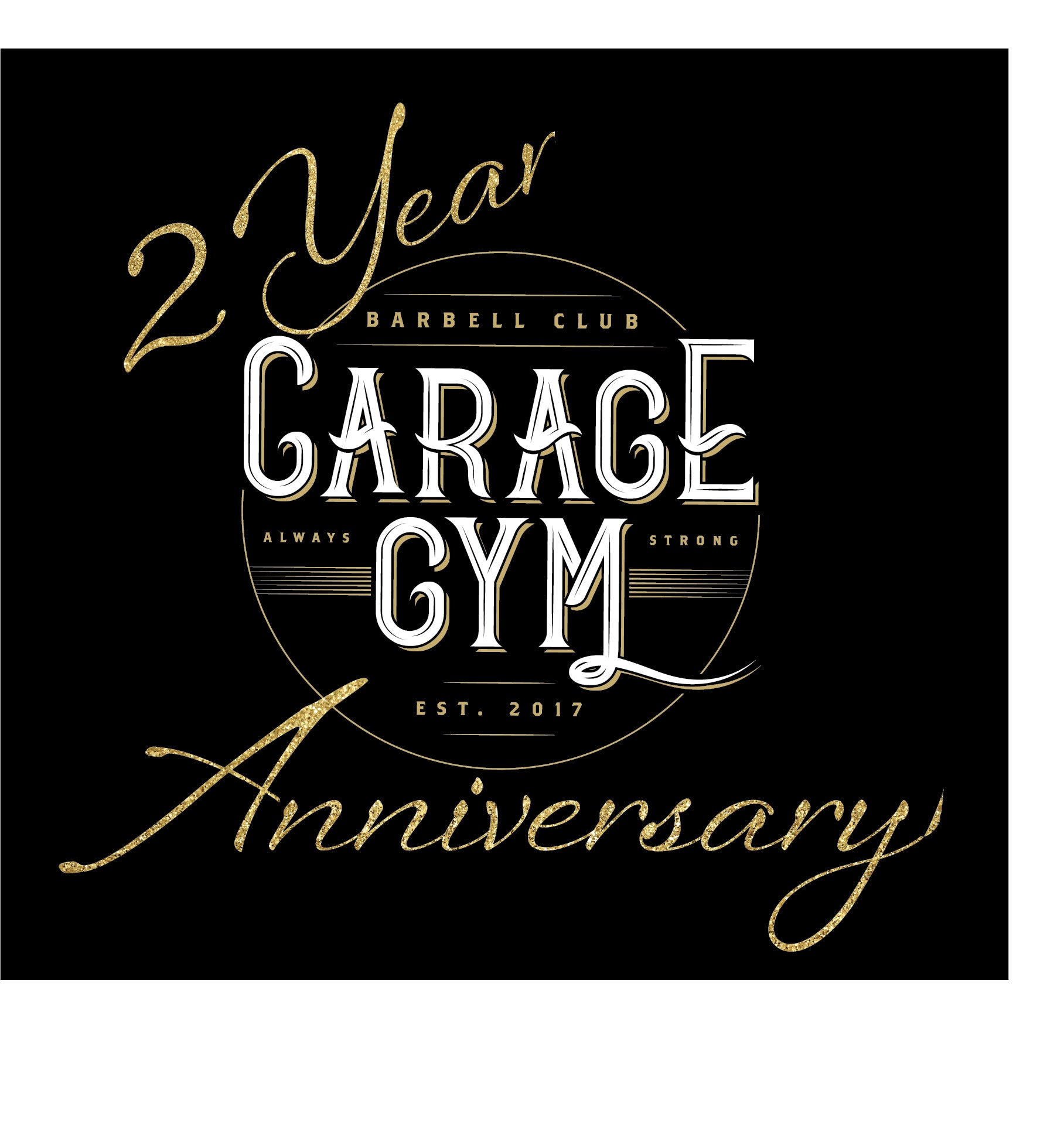 GGB apparel is turning 2 years old. Reflecting on these last few years has been filed with so many rewards and lots of hard work. Today I'm sharing the journey with all of you.
How the idea of GGB apparel started? A really short version of it ;) a little over 3 years ago, my Mother-n-law offered up her garage so that I could teach women how to squat, bench and deadlift. Our space was 600sq foot with 10 women in a class. Two racks were inside and one floating rack to move into the alley when we needed it. The space was tight but these women were learning something about themselves and it was changing their lives.
I decided to have a shirt designed and printed by the help of one of the members in my gym, Becca Lemar, a freelance graphic designer. The plan was to only print them for our local ladies but the logo was so badass that I started getting online inquiries from others to purchase one for themselves.
The idea was born, selling GGB gear online. Along with this idea came many questions.. "Could I sell these online?", "What do I call the apparel line?", "How do I even start?", and "How do I fund it?"
I had no clue of where to start with zero experience with an online store, design, printing, or which garment to choose....but Becca, my graphic designer, did know all about some of these things.  We decided to partner up!
Creating our Marketing plan: My small gym at the time was called "The Garage Gym"..pretty creative right ha! Becca and I tossed around the idea of creating a new unique name for the apparel that didn't limit our connection and sales to only those who own a "garage gym".  In the end we made the decision to name the new apparel line "Garage Gym Barbell Apparel". The name fit with our business plan to provide strength programming and monthly workouts to anyone that needed it and it was the source of our motivation for creating the apparel line.
However, the name was an obstacle. We received comments and messages often that they loved our shirts but they don't workout in their garage.  Over time our main mission statement "strength is for everyone no matter where they train" would shine through and "everyone" would feel welcome to wear our gear.
How much money did we need to start?: Becca and I decided that we could both invest $500 each to start. A few of the initial costs included.. sellers license for $30 + notary fees, set up an online store with Shopify for $29/mth & GoDaddy $14 for our domain name. 
With the money we had left we were able to buy a small amount of tanks & tees and have a couple different designs. Becca was able to keep the cost low by printing them for us.
Creating some hype:  Now that we had a few tanks & tees printed it was time to sell them.  Being a photographer in a past life, I set up a photo shoot with anyone who would offer their time.  We created good quality photos of real women wearing our new gear to post on IG.
We needed an IG account and decided to use switch my personal IG to our new Garage Gym Business account. We started with 1100 followers (half of them being my personal friends & family). If you scroll far enough you'll see my old training videos...eeeh.
Funds were low so we relied on only IG & facebook posts for our marketing. The hype was slow but it was working. We gained around 10-15 new followers each week and made sure to appreciate the hell outta them!
The first year: I wish I could say our first year was filled with lots of sales and profit but it was filed with lots of learning and just enough sales to create a new design every 2-3 months with a few restocks.  We didn't pay ourselves a dime in the first year.  Any small profit was put back into furthering the business.  Zero, nada, nothing paid to either of us.
Powered by all passion at this point, it was becoming worth it.  So many connections were made with women around the world!
Our dynamic worked so that I handled all the social media, packaging, shipping, etc & Becca took care of getting our ideas into designs and the printing. After a few months we made the choice to outsource the printing. Becca was already a business owner of a fulltime freelance design company with clients that needed her main attention. Soon Becca needed to stop designing for GGB and focus on her own growing business. After all, 1 year later and we still haven't paid ourselves a dime (more on that next) so I fully understood why my partner needed to move on.
The second year: How do I go on without my partner? Moments of fear took hold of me and I wasn't sure if I could do it on my own but I wasn't going let GGB go by the wayside. I enrolled in school at 43 years old as a graphic design student. 
Why didn't I hire someone to design for me?  The last year taught me that graphic design is an invaluable tool in any business. It's needed from simple daily post to weekly emails. I wasn't even paying myself so I didn't know how I could afford hiring the graphics out.  I was Living on a prayer until I learned how to design them myself.
Fast forward 8 months later I acquired "enough" skills to design the graphics for GGB and took over the printing. Now GGB was a one women show!
I made so many newbie mistakes: All the ideas in my head were finally able to be made into graphics with these newly acquired design skills. I went overboard and printed every idea I had in mind. The reality, some of them should've been timed better OR not printed at all.  It was a learning curve for me.
Sales, sales, sales is the moving factor to keeping GGB alive.  So I had ask myself "How do I make money doing what I love?"
The printing was once again moved in the the garage to save on printing cost, fine tuned my ideas and timing of releases, raised the prices slightly and stopped giving away so many shirts. Ugh! I love making things affordable & giving away free shirts, so restraint was needed but it was necessary to keep the business going.
Paycheck time: February 2019 was the month I planned to pay myself a small amount of $400. My instinct was to reinvest that $400 back into the business, but I stuck to the plan. Each month thereafter I increased the amount by $100 until reaching $800. 
I pay myself $800 month now, doesn't sound like much huh, but wow it feels really good going from $0 to $800. In addition to paying myself, I created a budget to reinvest $800 for future business goals (not listing normal operating numbers and cost of shirts and printing) and a $500/month equipment bill I acquired to open the new small gym.
All sounds very small time and not an overnight success business. This is the reality of building my legacy. It's taken time, many hours of learning and pure devotion into my passion.  The goal is to eventually pay myself a salary to match my husband's in the next 2 years.. for now I'm happy with my minimum wage check.
Was it worth it?: I've been rewarded by large tribe of women all around the world who appreciate the support GGB gives, the workouts, and the motivation from GGB's shirts.  It is well worth every moment I've spent these last two years in this business learning curve. I'm a becoming a better business woman and  appreciate my connections with others. Worth every second!!
I'm still a newbie in the apparel business but I'm happy to share what I've learned from my mistakes with you. Giving back is part of my fundamental business model. That's why my workouts are free and the motivation is genuine. If you're working to build your own legacy, share your thoughts with me.
xoxo Susie
---