Consistent Grace: An Interview with Powerlifter and Coach Amber Verrill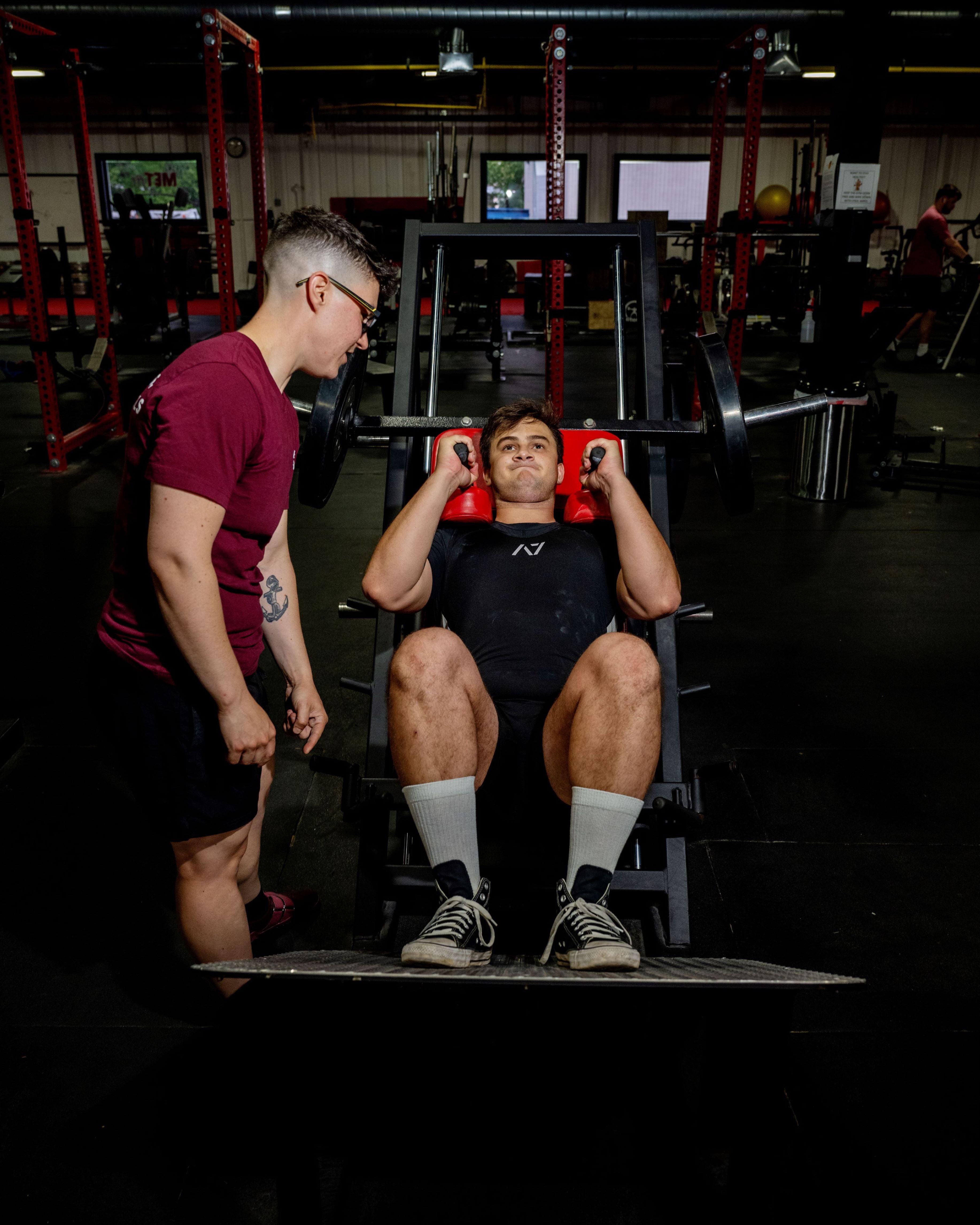 Consistent Grace:  An Interview with Powerlifter and Coach Amber Verrill
We spoke of boundaries, Amber and I.  Our talk was squeezed between her athletes' training sessions and my students' office hours, the two of us laughing while simultaneously knowing what it means to give enough of the self that one can feel elated at best and, well, depleted at empty.  I felt an instant kinship with Amber because of her giving sensibility tangled up with her drive to excel at powerlifting.  The one quality could not be parsed from the other.  How this aim towards growth of self and others will suss out at the end is yet to be known, but here is a little of her story. 
Amber is a lifelong athlete.  She started playing soccer at the age of four, then went on to play in high school and college.  She began lacrosse in high school and played that in college, as well.  Though she was a two-sport collegiate athlete, Amber didn't see herself as one of the most competitive on the teams.  It wasn't until she started training in the weight room as supplemental to these sports that she realized she had an edge over others.  "I wasn't a great field sport athlete. I wasn't like the best on the field, obviously, but the strength and conditioning coach came in, and we did some weight room workouts, and that's where I could kind of see myself ahead of the crowd."  Lifting became the thing that built her confidence. 
"I was pursuing this thing that made me feel better about myself like I was achieving something."
After graduating with her BS in Exercise Science, the sports stopped.  Without soccer and lacrosse, Amber felt like something was missing.  Her competitive disposition took new course in open debate and even outright arguments with her friends.  "I lost my competitive outlet, and I was definitely lost and very frustrated."  That's when she found powerlifting.  She loved squatting heavy.  It was something that she could see herself trying to get better and stronger at.  That was in 2017.  In 2019 she competed at her first meet. 
From then till now, Amber has worked her way up to an elite-ranked total.  She was able to achieve this while working through the challenges of busyness and business.  "So I am a strength and conditioning coach at Simmons University part time, and I work with nine teams."  Having to manage that many teams at once requires a lot of her time and energy.  She balances this, or makes her best efforts to balance this, while running her own coaching business, Ambitious Strength.  "I'm very, very busy.  I think one of the biggest issues I have is managing my energy throughout the day so that I can have the energy to go to a training session."  Often, she has spent it all helping others reach their goals without leaving enough of it for herself. 
Amber's flexible, though, a problem solver.  She rearranged her training schedule so that she lifts her heaviest on the weekend.  She made sure to give time and attention to her nutrition and recovery, eventually losing some of the weight she had gained earlier on in college.  And though she tells her athletes that life has to be danced with while achieving goals, navigated, that grace is necessary through the fumbles—she is hard on herself if her own training and nutrition and recovery are not on point.  "I push consistency and all that on so many people, but you know, forget to give myself some of that grace sometimes."
Powerlifting has come to be the gift Amber gives to herself.  If she's trying to work through stress from work or just needing to mentally give herself space from work, lifting helps her filter these things out.  Whatever she may have brought to the weight room has morphed into some whole other thing by the end.  If she was depressed, that sensation of sadness is altered, turned lighter from perspective, physical exertion.  Because Amber goes after so much of her mental processing through physical means, I wondered if she has athletes in her family who have passed along this example.  "I was the first person to play a college sport, so not a whole lot of leading examples there. So I think that might be another reason I kind of go ahead first into this--in spite of all of you, you know?"  Amber does see herself as the one setting some example of strength in her family.  Growing up with a single parent, little money, and five younger sisters, Amber knows that strength manifests in ways both common and not.  And you don't have to come from a particular type of strength to pursue it. 
Amber is constant and level-headed.  She gives of herself and to herself all the efforts of growth and strength.  You only need to take a minute checking out her communication on Instagram to know that this woman gives, and through that giving, learns more about her own strength—as a coach, as a lifter, and as one who inspires others to know strength in forms that did not exist as possible before her example of consecutive and exponential grace. 
You can connect with Amber on IG @ambitious_strength_ and at her website AmbitiousStrength.com. 
---